Anatomy of developing the perfect office building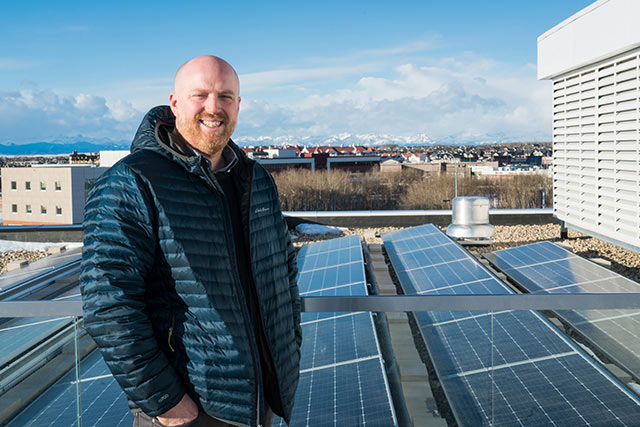 Standing on the rooftop of their gleaming new building in the Royal Vista Business Park, it's easy to see why Danny Martin, MartinVest's President, is proud. With panoramic views of downtown Calgary to the south and the Rocky Mountains to the west, The Link at Royal Vista is a shining example of a building that appeals to businesses looking for the hottest design elements and features in a location that offers the best of two worlds.
"Downtown offices in a suburban setting was our vision when designing The Link," says Martin. "We wanted to capture the design and elegance of downtown with the beautiful mountain views in the city's suburban northwest."
Building a strong relationship between where you work and live
With over 30 years of experience building successful companies in the oil and gas industry, Calgary-based and family-owned MartinVest decided to expand the scope of their operations by building new suburban offices aimed at the medical community.
"The goal for The Link at Royal Vista is to have a great medical office space with quality tenants," says Martin. "A long-term investment that will benefit the community."
Architectural detail by design
As their first office building, MartinVest decided to build new as opposed to retrofitting closer to downtown. "We wanted to give John a canvas to create his art," explains Martin, referring to architect John van Hemert. "The building was sited to capitalize on all the incredible views," says van Hemert. "We also paid great attention to landscaping and access for pedestrians."
Other features of the modern three-storey structure include surface and underground parking, bike storage, solar panels, rooftop patio, and floor-to-ceiling windows to maximize natural light.
The Royal Vista Advantage
With a highly desirable location, a cohesive architectural vision, and generous complement of public open spaces, the Royal Vista Business Park in northwest Calgary offers a number of distinct advantages.
Royal Vista ticks all the boxes.
Martin says there are a limited number of existing development opportunities in northwest Calgary that fit the bill. "Close proximity to Stoney Trail, Deerfoot, the airport, LRT, and having all the roads, lights and other infrastructure were big ticket items for us. Plus, proximity to the retail component offers everything you'd want for your day at the office. Royal Vista ticks all the boxes."
From the rooftop Martin also points out other benefits of Royal Vista. "The walkability of the area is excellent, there are 18 acres of park space, restaurants to grab a quick lunch, and nearby schools." The Renert School, for example, is just across the street. "And the new Shane Homes YMCA at Rocky Ridge is unbelievable," Martin says with a smile, referencing what is now the largest YMCA in the world.
There from start to finish
Martin appreciates the working relationship he's had with The City's Real Estate & Development Services team. "Dealing with RE&DS has been great," he says. "They've always been at the table, and are always there to accept a call and talk."
The team at RE&DS strives to be responsive. "We understand that time is money," says Alex Wihak, sales agent, RE&DS. "In order to help create certainty in your investment timelines, we strive to avoid delays wherever possible."
Talk to us first…
"Just as MartinVest did, we encourage all prospective builders to talk to us first," says David Purcell-Chung, development & planning advisor, with RE&DS. "Danny and John came in and showed us their vision of the building. We reviewed their plans prior to the actual submission to help facilitate the approval process."
Martin nods in agreement. "Once we purchased the land, David and team were great in helping us with our vision: what we could put on the land, how to make it flexible, the size, the parkade, the positioning of the building on the site. David was instrumental in helping with all those factors."
Originally posted at:  https://www.calgary.ca/realestate/Pages/Blog/Anatomy-of-developing-the-perfect-office-building.aspx